The special touches you add to your wedding are what make it memorable and a celebration of you and your partner. There are lots of things you can customise, from the decor to the cake, theme to flowers, and more. Another thing you can have to really wow your guests is high-class wedding entertainment. What is better to get your guests talking than having a renowned performer? We can help you to find the perfect act.
Your Wedding is the most important day of any Bride and Grooms lives, it's a day that you have been saving up hard for to make your wedding the most special and memorable day of your lives. But most don't leave your entertainment to the last minute or as an afterthought. Most Bands, Solo Artists and Performers get booked for popular dates as far as 2 years in advance. So like your Wedding venue, Wedding Breakfast and Evening Reception which has to be perfect so does your entertainment. So booking your wedding entertainment in advance is crucial! Dealing with Mike Russ Entertainments UK Agency, we take Wedding Entertainment very seriously and we have over 38 years supplying entertainment for Weddings. The company launched last Autumn 4 special entertainment packages similar to the Wedding Breakfast Menu.

How our Customer Service differs from other entertainment companies
Our CEO & Founder has been working in the entertainments industry for over 39 years and as the high level of entertainment increases so does our customer service. On the initial discussion of the entertainment you require for your wedding we always prefer to arrange a visit at your convenience to meet you and the lucky Groom at your home address so that we can get to know you and your characters and your quirks so that we can include that into your entertainment for your special day. Getting to know your Entertainment Agent on a personal level means that you can build trusts between you and your agent so that the agent can achieve wishes and be able to book the very best in entertainment within or slightly out of your budget.
Book Early
The same as your wedding venue, you book in advance to ensure that you have your perfect wedding venue and the same goes for your entertainment, you need to book in advance so that you can have your favourite band or singer. Most professional wedding entertainers do get booked up very quickly. So our advice is as soon as your venue is booked to contact Mike Russ Entertainments (MRE) Group Ltd and we will book your favourite band.
Make sure you have entertainment for the other parts of your Wedding
The evening reception tends to be a band and possible a DJ to fill in for the breaks or the band you book may also do DJ as well to keep the party dancing on the dance floor. But its not just about the evening reception for entertainment there are other parts that sometimes has a lull with nothing happening especially between the wedding breakfast and the evening reception: –
The Ceremony whilst you are signing the register
The Drinks Reception
The Wedding Breakfast
The kind of entertainment you could book for the day time of your wedding could be a string quartet, pianist, close up magician either working the drinks reception room or working the room where your wedding breakfast is being served. It doesn't have to be music to keep your party occupied we also supply some exquisite circus acts such as silk aerialists.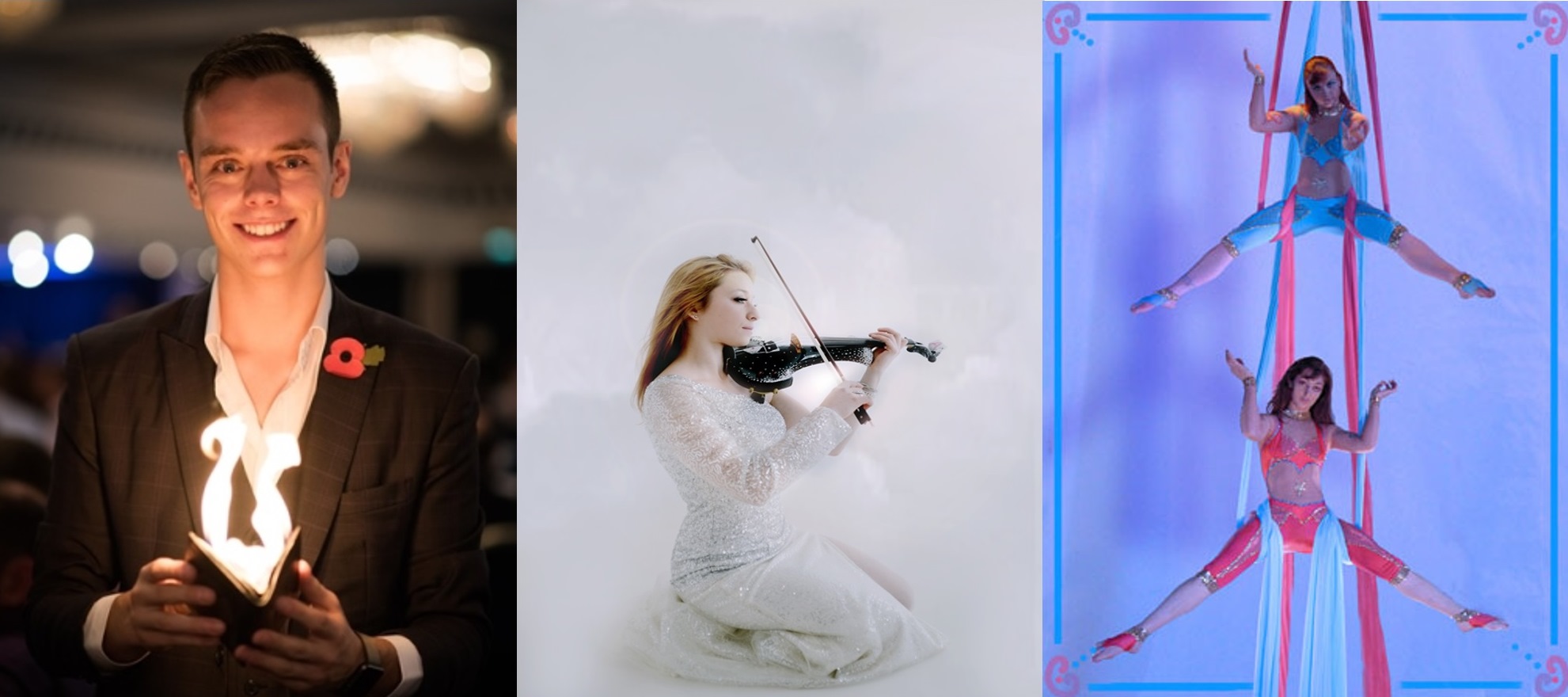 Choosing your Wedding Reception Band
Some Bride and Grooms always make the same mistake of booking entertainment to suit their guests, but this is your wedding day and your wedding reception. This is the part where you come together with your friends, colleagues and other family members to celebrate with the newlyweds. So the band is your choice, your style of music. But for the reception, most people do the dance to a band and most bands will play the cheesy classics to keep your older guests happy. But their other area's that you need to cover, for instance, if you're getting married in the highlands of Scotland and your band is in Portsmouth then this is going to be costing you more for travel, overnight accommodation and meals. So to help you keep the costs down we would then suggest a band in Scotland is booked. Most performers will travel approx. 90 mins and after that will require funds to cover their petrol costs. Whatever Mike Russ Entertainments Group Ltd will be at your side every step of the way as your wedding is extremely important to us just as it is for you. So we want it to go smoothly and with no hiccups.

When you do book your venue talk to them about wedding entertainment and having a band, there are several things you need to ask the venue before you start booking a band: –
Are they permitted to have live music and if so are they any restrictions such as noise level? Check with the venue that they haven't been served by their Council a served a noise abatement notice, which requires the venue to reduce the volume of all music.
Check where the band would be performing and if there's going to be enough room. At MRE Group Ltd we will always tell you how much space the band will require in feet.
When booking your band or your wedding entertainment with MRE Group Ltd, we will always invite you to come along with us to see them in action on public bookings, we couldn't let you see them playing at a wedding it wouldn't be fair. Check out our list of fantastic bands we can supply.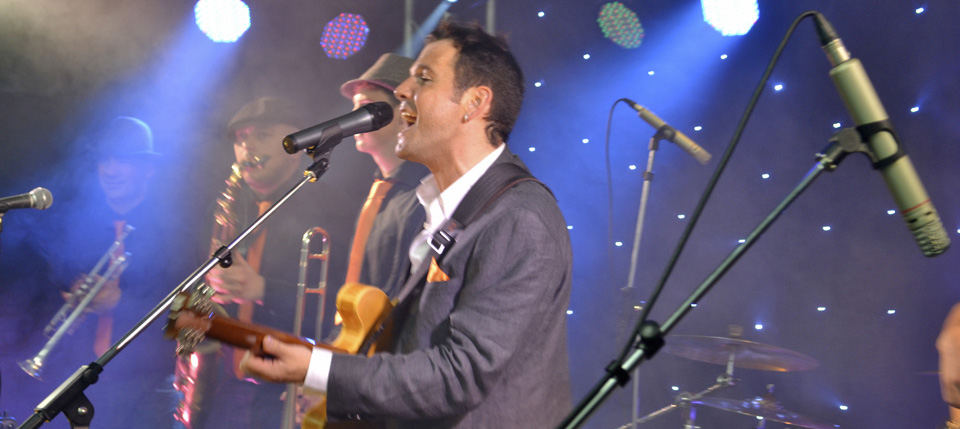 Booking with MRE Group Ltd
Once you have chosen your band, we can then send out contracts to both parties, from MRE Group Ltd to you the "Booker" and we as the entertainment agency would then contract the band to your Wedding. We operate a 4-week call, where we make the final preparations for your wedding. We would be asking questions such as what times can the performers have access time to set up, private lockable dressing room for the band to leave their private belongings and to sit and relax between their sets. The standard timings of most bands upon a 5 pm arrival is usually a 00:30 finish.
We carefully choose and handpick all our acts and performers. On our first initial discussion with the Bride and Groom, we like to arrange our first meeting face to face at their home as they will be more relaxed and depending on how many will attend the initial meeting we usually take a bottle or two of "Prosecco" to make the evening a social evening where we can find out if they have a wish list we can work on as well as gaging their characters as we always like to incorporate that into the entertainment we suggest, making it a little bit more personal to the bride and groom on their important day!
Our Promise
We are Live Music Experts
We have a huge range of Acts and Performers
24 Hour Support
Keep our Prices realistic
We issue legally bounding contracts to all bookers
All our performers are contracted
We ensure all acts arrive on time and carry out sound checks Dealing with Mike Russ Entertainments UK gives you the reliability and security of dealing with a professional agency where acts will not let you down
A Member of the management team will be on-site of the event and take charge of the entertainment
A dedicated Account Manager will be assigned to your event or wedding and oversee the entertainment you have booked with us, giving you the personal touch dealing with the same Account Manager
How Many Sets Do The Band Play
When it comes to performance times the standard sets are usually 3 x 45-minute sets or 2 x 60-minute sets. Most bands will offer you a playlist DJ service to keep the party going whilst they are taking a break. But if you are wanting a DJ Service where your guests can make song requests, then you need to make sure the band offers a manned DJ Service.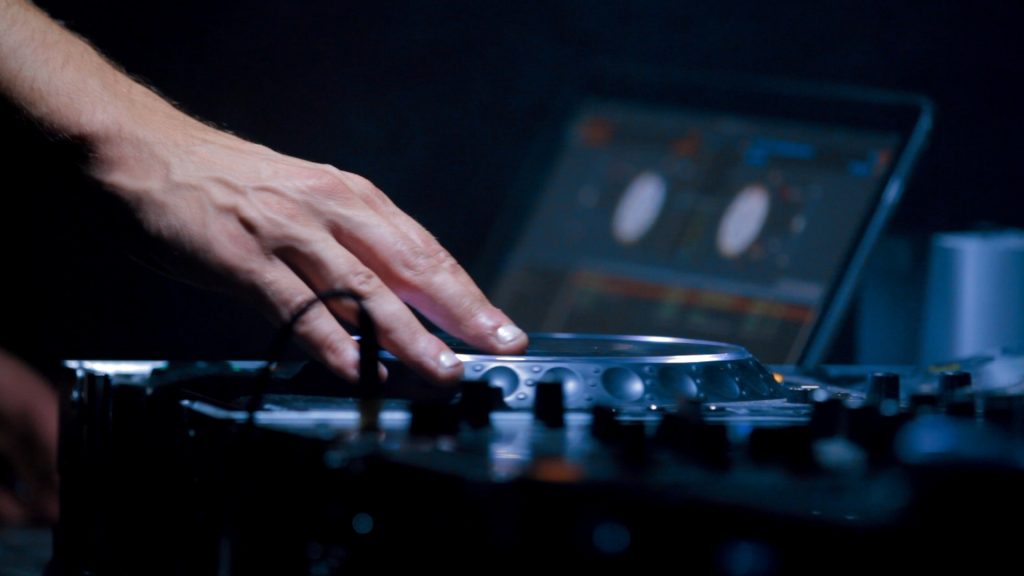 Equipment and Paperwork
The Band or Solo, Trio's normal bring their high-quality PA and Lighting equipment with them, this will be checked by MRE Group when a 4-week call is with the band. The bands or the performers will also bring a copy of their Public Liability Insurance in case this is not covered by the venue, but please check with the venue when you make the booking.
Booking with Mike Russ Entertainments (MRE) Group Ltd
At Mike Russ Entertainments (MRE) Group Ltd we make booking your wedding entertainment simple, secure and hassle-free. Both parties have signed legally binding contracts, but our performers and bands would only be too delighted to be booked to perform at your Wedding. A member of the MRE Group Ltd management will be in attendance to oversee the entertainment being set up so you don't have to worry and we don't charge for that. We are here for you 24/7 our office opens from 09:00 am – 22:00 pm Monday – Saturday and for urgent matters, we can be contacted on our on-call mobile phone. All you need to do is browse our website and discover the act that you want on your big day! Use our very simple enquiry form and let us do the rest.