Valentine's Day is also known as Saint Valentine's Day or the Feast of Saint Valentine, and it is a celebration that takes place on the 14th of February and is considered a celebration of love and affection. Valentine's Day is celebrated around the world so that we can also share our love and affections to the person we love, we are able to provide a range of Valentine's Day Entertainment for events across the UK and across the globe.
We have had a rough couple of years with Corvid19, lockdown and dealing with restrictions, etc, and not being able to live your life to the full but hopefully, 2022 is the new year and the new you!
Valentine is the new time of the year to show your "Loved One" how much they really mean to you and there are so many ways of showing your "Loved One" how much you really care about them and planning something very special to show your love. If you're planning a romantic picnic or dinner for 2 how about adding that extra special thing to say " I Love You" by either booking your loved one their favorite musician, tribute act or even booking a singer to perform all those amazing "Love Ballads".

At Mike Russ Entertainments (MRE) Group Ltd we really do care about the entertainment we supply, if it's something that we wouldn't want then we wouldn't supply it! We want you to go "wow", "that's amazing". What would be amazing for us is for one of our clients to get on one knee and propose to his sweetheart, that would be like a fairytale ending.
If you are organising Valentine's Day dinner dance that you're hosting, get your guests up and dancing with slick performances from big bands like The Simon Faulkner Band and the soul/funk Group Soul Kinda Wonderful. Looking for something more intimate? Classical musicians are always a perfect choice. Phil Short who plays romantic covers to passionate ballads, which is perfect for a true professional acoustic male vocalist on his classical guitar, guaranteed to make your function ooze ingenuity and romance.
Top Tips For Booking The Perfect Entertainment for Valentine's Evening.
We have a wide range of romantic Valentine's Day-themed entertainment! Our Valentine's Day themed acts include Ballet Dancers, Chocolate Fountains, Love Hearts, Human Statues & Stilt Walkers suitable for Valentine's Day dates. We also have amazing visual acts such as Halo Glow, which show off their spectacular Super-bright LED (glowing) hula hoops, juggling clubs, and 'Hyperlight' poi illuminate the complex patterns and textures drawn in the air by three virtuoso circus artists. Or if you are looking for a performance that is going to bring you the wow to you're evening then the perfect act that brings elegance with spectacular moves is The Eden Brothers who also won the 2010 Olympics Gymnastics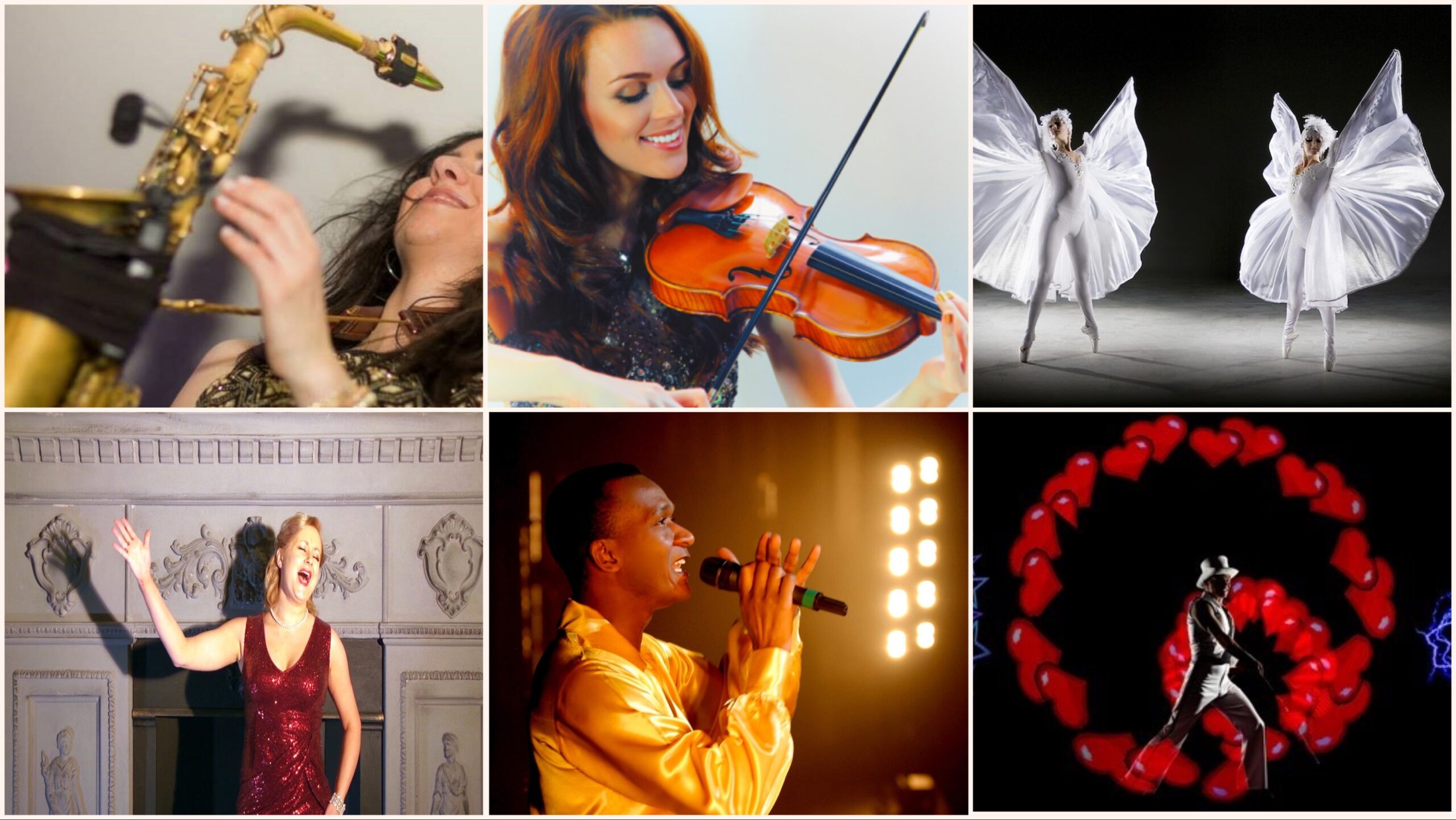 Whatever you have in mind or whatever themed Valentine's Night you have planned one thing you can be sure off is as an Award-Winning London Talent Booking Agency, Mike Russ Entertainments (MRE) Group Ltd will always supply you the very best in entertainment. To save huge disappointments is to call us now and booker rather than later as we can't be sure the acts you are wanting will be available. Fill out our Enquiry Form Today!